When we were in Maui last October, Maui Brewing Company had a limited-edition Imperial Coconut Porter on tap that was blissfully delicious and at least twice as wonderful as their usual coconut porter. The ICP was so good that it tasted like coffee and I liked that about it. It also tasted like chocolate and coconut and several other things if you held it on your tongue long enough.

I'd been wanting to try brewing a dark beer this winter and after that heavenly taste I determined to make a coconut porter. I had no illusions that it would be as wonderful as the one from Maui, but anywhere in that ballpark should be tasty.

I poked around the Internet to get a sense of the ingredients that other folks used in coconut porters and then went to the friendly local homebrew store. I didn't have a planned recipe, so I spent probably ten minutes smelling tubs of dry malt and imagining their combined flavor. I ended up with a pound of chocolate malt (600–700°L), half a pound of 80°L crystal malt, half a pound of flaked oats, and four pounds of "golden light" liquid malt extract. (°L is a measure of color. I described the wort as "dark chocolate" and the final brew as "light black.") I stopped by Whole Foods for two pounds of flaked coconut and twelve ounces of honey which I managed to spill on the bulk food scale and then improperly label with a PLU code.

I'd been planning to add a pound of blackstrap molasses as well to add some more dark sugar to the mix. And when I was gathering ingredients for the wort I noticed that I'd had a jar of carob molasses sitting around that I bought over a year ago, figuring I'd use it in some kind of beer. It's dark and sweet, so in it goes!

After primary fermentation I racked the beer into a glass carboy and then dumped in roasted coconut flakes through a funnel. It turned out that 5 gallons of beer plus two pounds of flakes doesn't leave much headroom in a 5-gal carboy. In the first hour I watched the wet coconut push dangerously far up the neck of the glass. Remembering stories of exploding carboys when a brew gets up to the seal, I used the thief to draw out some liquid on the inside and coconut stuck to the outside. The next morning I woke to find chocolate-covered beer pushing up through the airlock and spilling onto the table. I was actually relieved by that state, since it didn't involve explosive glass shards. The mouth of a carboy is, unfortunately, narrower than a spoon, so the best tool I could find was a metal kebab skewer which I used to move some coconut mass around and open up air pathways.

Fortunately the secondary fermentation wasn't very active, so I didn't have to reengage with battle with the coconut monster until bottling. With about two gallons left in the carboy, we were suspicious that the syphon would get surrounded by coconut gunk and leave stranded beer. We poured from the carboy through a strainer into a pot, which was remarkably effective. We got a nice bowl of alcoholic coconut to much on, a fairly sediment-free final syphoning, and a carboy plastered with coconut: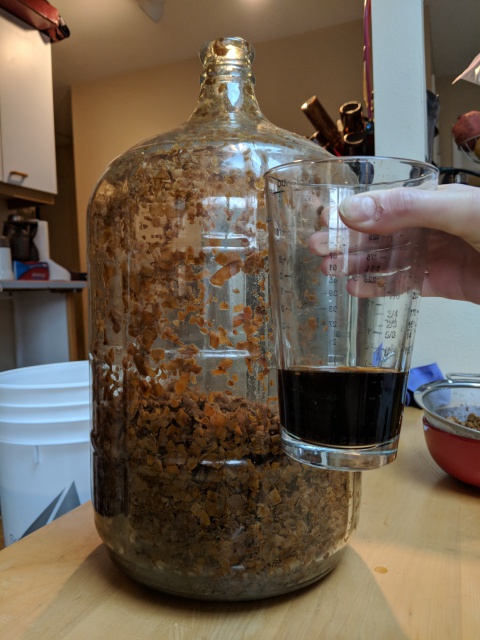 The rest of bottling was mostly uneventful until small coconut flakes clogged up the bottling wand with about three bottles worth of beer left. I tried switching to the pinch-the-hose technique which is harder than it sounds and ended up with a decent amount of beer on the floor. (I don't think I've had a bottling evening that didn't end up with alcohol on the floor. Our dining room is blessed.) I did have the presence of mind to use the hose's position relative to the syphon point to stop and start flow, which was sufficient to fill a bottle or so.

Also, the plastic bottle tree I got from a coworker makes the bottle drying and at-hand-for-filling really slick: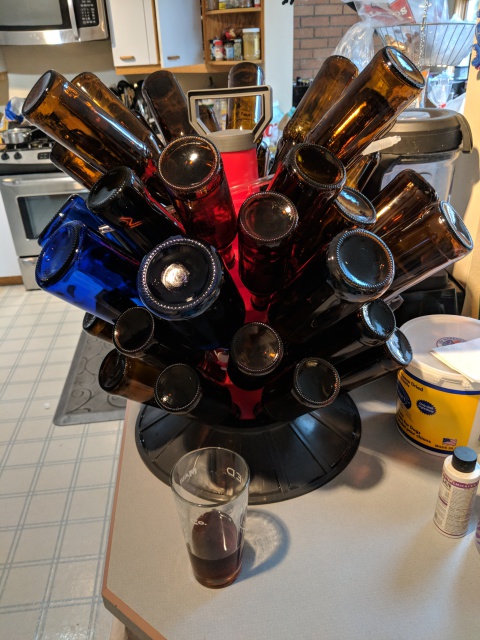 Ingredient list:
5 gal Water
4 lbs CBW Golden Light liquid malt extract
1 lbs Crisp Malting chocolate malt 600-700L
8 oz flaked oats
8.5 oz Briess Malting caramel/crystal malt 80L
12 oz Colorado honey
1.3 lbs Plantation blackstrap unsulphured molasses
1.5 lbs Al Wadi Al Akhdar carob molasses
1 oz northern brewer hops
1 oz santiam hops
0.25 tsp Irish moss
2 lbs roasted flaked coconut
White Labs WLP80 cream ale yeast blend

The friend who helped me bottle declared that it tasted like "tart coconut." I'm very pleased with the coconut presence (though a pound would've made for less mess and still plenty of taste). There's a good dark malt flavor, though I don't taste a lot of chocolate, coffee, or other notes. It's not bitter yet also not very sweet.

Anon, anon! I pray you, remember the porter.



This entry was originally posted at https://flwyd.dreamwidth.org/380293.html – comment over there.