On July 4th I started brewing a batch of Red White & Blueberry Ale. For several weeks I was trying to decide what I should brew during the holiday break until inspiration finally hit for this patriotic brew. The idea was to brew a red ale with blueberries, using flaked wheat (plus the yeast and head) to play the role of white.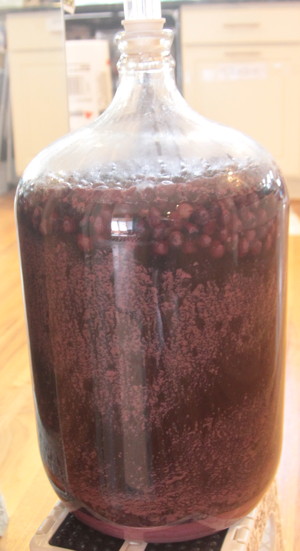 In the boil I put
5 gal water
4 lbs CBW Golden Light liquid malt extract
2 lbs Red X 12° malt
½ lb flaked wheat
3 lbs blueberry puree
1 oz Liberty pellet hops
1 oz East Kent Golding pellet hops
0.5 tsp Irish moss
1 packet White Labs Irish Ale yeast (WLP004)

Thanks to the blueberry puree, the wort was very brown and cloudy; straining it into the fermenter was a slow and gooey task. With nearly 10 pounds of sugars, vigorous fermentation picked up within hours.

Two weeks later, I racked this to secondary: it was a purple shade of brow and still fairly cloudy. I added 4 pounds of whole blueberries that had gone through four freeze-thaw cycles to break down the cell walls. About a third of these floated right away while the others sunk to the bottom of the carboy, slowly rising in the next couple days as they soaked up the beer.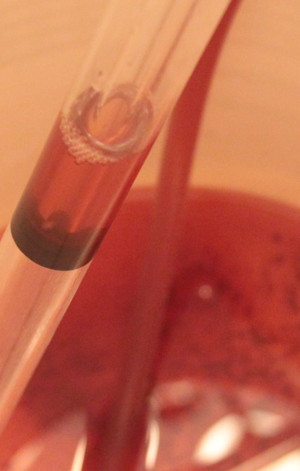 Today was bottling day. The sediment had settled nicely, with all the blueberries on top, creating a fun visual as the two masses slowly approached each other while I siphoned into the bottling bucket. My siphon placement technique worked well; there was hardly any sediment in the bucket (I usually end up with several millimeters). The beer had also cleared: instead of the cloudy brown, it was a beautiful reddish shade of purple, looking more like a light red wine than a beer. The taste is also pretty exquisite: blueberry and grain flavors both come out in roughly equal proportion; neither are overpowering, and the hops are mild, with no detracting bitterness. The alcohol content is somewhere above 3.7%; I don't know for sure because I'm not sure how much sugar in the whole blueberries got digested by the yeast. Regardless, this should be a great refreshing summer brew, befitting its patriotic and independent identity.



This entry was originally posted at https://flwyd.dreamwidth.org/383153.html – comment over there.